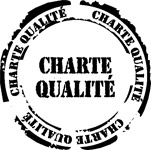 Our customers' ever-increasing requirements mean that our quality management system must follow suit. We must strive to improve quality on a continuous basis. That is why we have set up an independent, fully-fledged quality department which not only monitors statutory compliance but also the smooth functioning of the overall quality system.
Our quality management system is based on international norms such as the IFS (International Food Standards).
In this context GP PAYS BASQUE is tackling improvement in different areas :
Becoming a reference as regards product quality
We offer a product which not only corresponds to Piment d'Espelette PDO specifications, but goes way beyond these requirements. We also have full control of the safety of our products, throughout the production process, from plot to end-consumer.
We use a controlled computerised tracking system from plot to distribution.
We undertake regular quality audits, both internal and external, which allow us to make sure the whole quality system is working smoothly.
As part of this approach, all the personnel are actively involved, ready to reinforce a quality-oriented culture within the company (HACCP training, hygiene training, etc.).
Protecting supplies of raw material
For the last ten years we have been offering each producer personal support and assistance in cultivation, administration and improved practices. This close relationship has helped us to control the quality of raw material at the plot, and to guarantee a quick reaction in the case of risks which would threaten the crop (diseases or pests for example)
GP Pays Basque producers are spread over the Piment d'Espelette protected area, on hillsides and in valleys. This strategic choice allows us to limit the risk of crop loss in the case of hail (usually on one production corridor), early ice (first frosts in valley bottoms), and heat waves (affecting hillside production).
Plots are regularly visited, from planting to harvesting, in order to check on the health of the crop.
Building a future by developing skills and sharing knowledge.
GP Pays Basque is committed to involving the workforce in the life of the company. We're setting up a system of participative management so that each member can give their opinion on company plans.
With this in mind we are putting in place training sessions which allow each person to develop their personal and/or professional skills.
Piment d'Espelette must stay in tune with the times
Although it was granted the French protected origin label (AOC) in 2000, Piment d'Espelette is a product which must not rest on its laurels.
That's why we pay great attention to the requirements of our customers, both professionals and consumers, who help us create new products and improve our services.
Listening to our customers is central to company policy, and we endeavour each day to meet their needs and answer their questions. We do our best to satisfy specific requests insofar as this is possible within the limits of our product specifications.